Scottish Nursing, Midwifery and Allied Health Professions Research Awards 2017
Published on: 13/11/2017
---
Supported by the: Chief Nursing Office and Chief Scientist Office for Scotland, Allied Health Professions Directorate, NHS Education for Scotland, Scottish Executive Nurse Directors & Council of Deans Scotland.
A ceremony to present the 2017 Scottish NMAHP Research Awards was held on Thursday 9th November in the Apex Hotel, Waterloo Place, Edinburgh. The award ceremony was preceded by informative and entertaining presentations on the facilitators to a clinical academic career, the attributes required of a clinical academic and an example of a framework to support the careers of clinical academics. Fiona McQueen, Chief Nursing Officer for the Scottish Government, opened the event by stressing the importance of NMAHP research to patient care.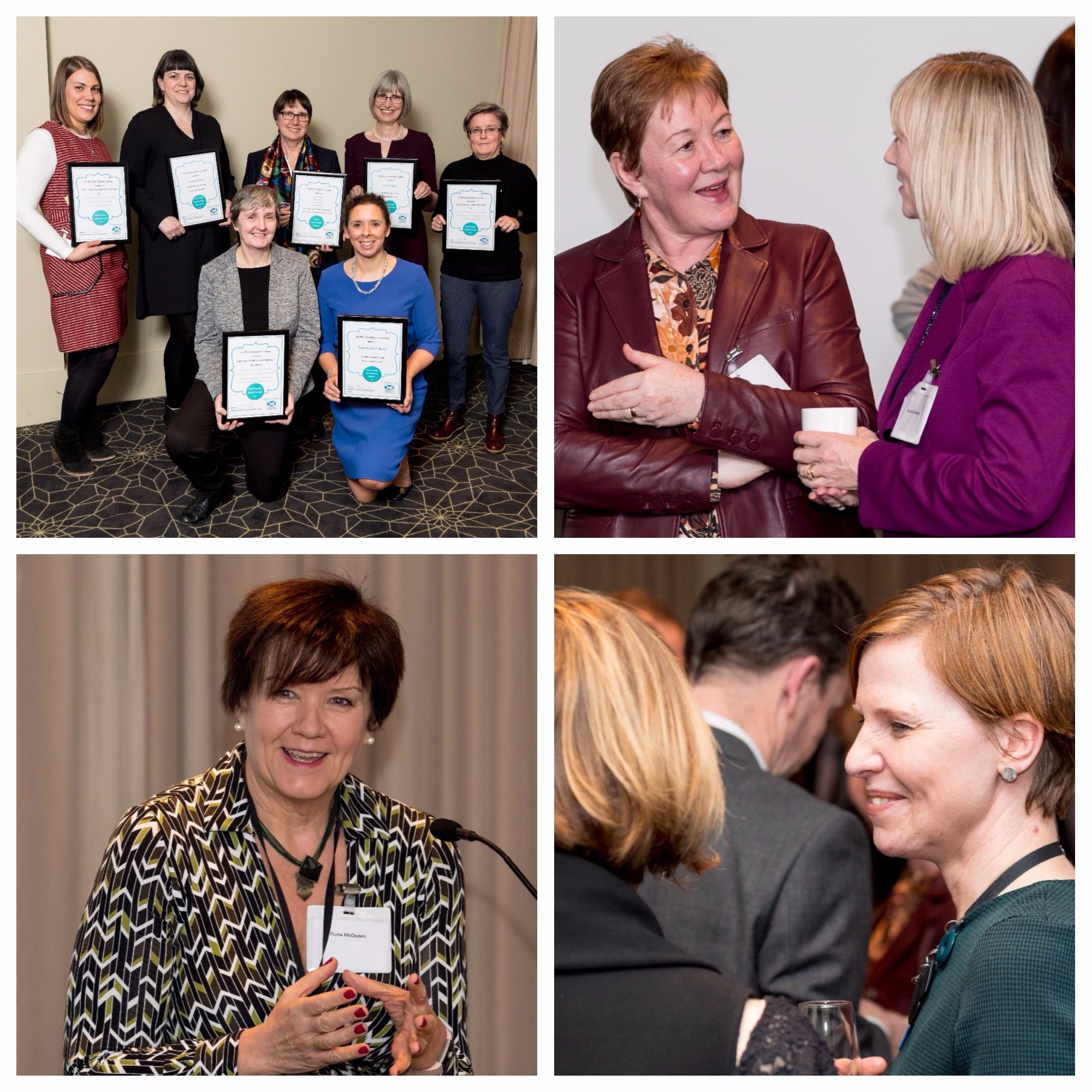 Seven awards were presented by Professor McQueen.
Winner of the Award for INNOVATION: Development of an intervention to increase physiotherapy adherence in young children with cystic fibrosis.
Presented to Dr Karen Semple on behalf of the multi-disciplinary team: Dr Emma France, Dr Gaylor Hoskins; Prof. Suzanne Hagen; Elaine Dhouieb; Steve Cunningham; Prof. Eleanor Main; Prof. Chris Rowland; Prof. Shaun Treweek; Dr John McGhee; Dr Claire Glasscoe; Dr Janet Marjorie Allen; Prof. Pat Hoddinott; Prof. Brian Williams. Researchers: Dr Karen Semple, Dr Mark Grindle, Kieran Duncan.
Winner of the Award for IMPACT: Supporting "survivorship" after critical illness: High impact service development as a result of interdisciplinary collaboration.
Presented to Dr Pam Ramsay on behalf of her inter-disciplinary team: Dr Pam Ramsay, Dr Claire Kydonaki, Dr Judith Merriweather, Dr Janice Rattray, Dr Lisa Salisbury, Corrienne McCulloch, Gosha Wojcik, Louise Boardman. With contributions from Drs Susanne Kean, Sheila Rodgers and Jenni Tocher.
Winner of the EARLY CAREER RESEARCH AWARD: Julie Watson
Winner of the ESTABLISHED CAREER RESEARCH AWARD: Aisha Holloway
Winner of the ORIGINALITY OF DOCTORAL RESEARCH AWARD: Claire McFeely
Supervisors: Professor Lorna Paul & Professor Michele Burman
Thesis title: The Health Visitor Response to Domestic Abuse
Presented to Doreen McClurg on behalf of the authors: Suzanne Hagen, Cathryn Glazener, Doreen McClurg, Christine Macarthur, Andrew Elders, Peter Herbison, Don Wilson, Philip Toozs-Hobson, Christine Hemming, Jean Hay-Smith, Marissa Collins, Sylvia Dickson, Janet Logan.
A SPECIAL IMPACT AWARD FOR OUTSTANDING CONTRIBUTION TO NMAHP RESEARCH LOCALLY, NATIONALLY AND INTERNATIONALLY was presented to Professor Mary Renfrew, Dr Alison McFadden, Dr Andrew Symon, and Dr Heather Whitford, for their work within the MOTHER AND INFANT RESEARCH UNIT which led to the publication of THE LANCET SERIES ON MIDWIFERY.
The presentation of the awards was followed by a reception, providing the opportunity to relax and chat with colleagues.